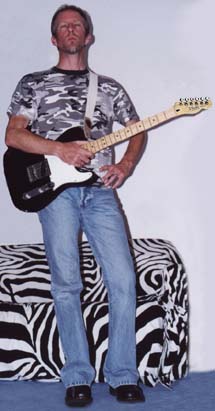 And as for me ...
- I've been playing for a while. Initially started playing keyboards late 70's but moved on to guitars really to see how they worked, and because they're a bit more portable. Also things were changing quite rapidly technology-wise and I really couldn't afford to keep up. Strange that the synths that were no longer cool then are now back in fashion! I now have the synths that I dreamed of then, such as the DX7iiFD and the Korg Wavestation and the classic M1. First guitar lessons were with an old chap in Cape Town for a few months then on to a young Metal-Head. I'll have to admit the old chap was a far better teacher. I still don't play wonderfully due to lack of practice time and like-minded people to jam with, but I'm working on that one (yah Jeremy you missed out, and the beer 'fridge is full). I listen to everything from jazz to rock to metal, e.g. Aerosmith, Pink Floyd, Eric, Herbie, Jimi, GnR, REM, Miles, Stone Roses, Counting Crows, Lenny Kravitz, Creed, Manic Street Preachers, Travis, Coldplay, Zappa - the list is too long really. All time best keyboard player? Chick Corea, jazz and Rick Wakeman and Keith Emerson for rock. All time best guitarist? somewhere between Gilmour and May.
Heading more in a keyboards direction at the moment, that's where my true interest lies, so whatever practice time I get goes into that and clarinet. Yes, I bought a Clarinet in Cape Town (LeBlanc) and am learning that as well. Looking around for a reasonable deal on a MIDI wind controller for the EX5 as I'm just using a BC3 breath controller at the moment. The EX5 has a wind instrument modelling module as part of it's synth engine, so it should sound pretty good. I'll likely end up with a Yamaha WX5 controller.
Current set-up: On the keyboards side there's a Yamaha EX5 sampler/synth, an Alesis QS7 Synth, a Korg Prophecy Analog Modelling Synth (Cult Synth), a Korg Wavestation and an M1, a Roland MC-505, a Yamaha DX7iiFD and a Korg Poly800 all going thru a Behringer 2442 mixer and 4 really really big speaker cabs. Started off in the early 80's with an old valve organ which I scored from the church down the road, with a Korg MS20 on top (with a 24-note analog sequencer - weren't those the days!), and a Jen SX2000. Suddenly everything turned digital! thanks to Yamaha, so the setup changed to a 3-tier rack with Korg digital piano, Roland D20 LA workstation and a Yamaha DX7 topping it off. Hayley and I each had a full size (real) piano - mine being more of an art piece - painted purple and black with paintings and decoupage all over it. Learnt to play at an old lady's place in Cape Town city bowl, then went on to the Jazz Workshop in Cape Town (with Merton Barrow) for Jazz Piano. Hayley's drum kit (Yamaha) is now sitting in the corner of the room, and yes she plays it every day.